December 17, 2020
New Directions in US Government Trade and Investment Financing with Indonesia 
Join us for a briefing by key managers at the two principal US government institutions designed to help US companies expand their businesses overseas.   Speakers from the US Export-Import Bank (Exim) and the International Development Finance Corporation (DFC) will report on exciting new initiatives with Indonesia, including last month's visit to the US by Indonesia's Coordinating Minister of Maritime Affairs and Investment Luhut Pandjaitan and the October visits to Indonesia of Exim's President and Chairman Kimberly Reed and DFC's CEO Adam Boehler.
Topics include:investment opportunities in priority sectors (infrastructure, energy, transportation, and telecommunication), Exim's new $750 million trade finance facility for Indonesia, and specific DFC tools and resources that support US investment in Indonesia.  
Date:  December 17th
Time:  8:30-9:30 am (East Coast US Time)
Note: This event is not just for large companies: Exim and DFC programs range from
 $1 million to $1 billion.

Click Here

to register and receive our Zoom link.
November 17, 2020
Indonesia's New Omnibus Law on Job Creation: An Expert Briefing
KEYNOTE SPEAKER:
H.E. Airlangga Hartarto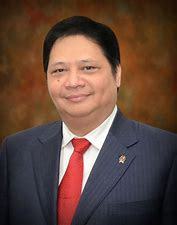 On behalf of our co-host, The US-ASEAN Business Council, and in cooperation with the Indonesia Investment Promotion Center (NY), it is my pleasure to invite you to "Indonesia's New Omnibus Law on Job Creation: An Expert Briefing", keynoted by Coordinating Minister for Economic Affairs, H.E. Airlangga Hartarto, and featuring a stellar panel of professionals from taxation/accounting, banking/financial services, law, investment procedures, and political economy.   The law is intended to spark the creation of millions of jobs by dramatically changing the landscape for business operations in the world's fourth largest country.  How far-reaching are its reforms ?  Will the law attract investment from US companies seeking production alternatives to China ?  What are the significant taxation, legal and regulatory changes that will affect companies already operating in Indonesia ?  How will the law effect bilateral trade ?  What prompted the government to craft the legislation and what are the political dynamics surrounding the law ?
Click Here

to register and receive our Zoom link.
October 26, 2020
How to Enter the Digital Industry in Indonesia; Potentials, Opportunities, and Challenges
October 8, 2020
Indonesia-US Virtual Business Meeting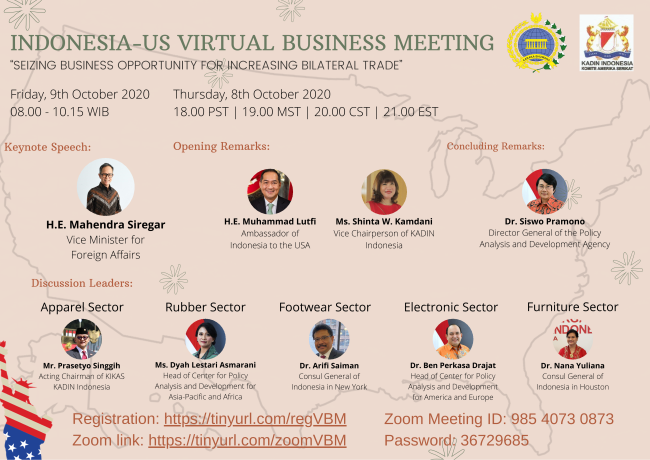 It is my pleasure to forward this invitation to an online event (October 8 stateside and October 9 in Indonesia) promoting 5 key exports of Indonesia. This program is organized by the Ministry of Foreign Affairs and KADIN (Indonesian Chamber of Commerce). Please click the "invite brochure" below to open the invitation and click on the registration link. 
December 5, 2019
New Directions in Indonesia's Investment and Tax Policies



Wednesday, December 5, 2019 from 5:00 PM to 7:00 PM EST
Offices of Ernst & Young
5 Times Square
New York, NY 10036
---
November 18, 2019
Business Forum on Trade, Tourism and Investment
featuring
Vice Minister of Foreign Affairs, Mahendra Siregar
Vice Minister of Trade, Jerry Sambuaga
Chairman of the Indonesian Investment Coordinating Board, Bahlil Lahadalia
September 25, 2019
Vice President M. Jusuf Kalla
September 24, 2018
20 Years Since Soeharto: The State of Democractic Reform

 

Kevin O'Rourke, Publisher/Editor "Reformasi Weekly
Luncheon (12-1:30 pm)
New York City
hosted by Citi
In 1997 Thailand caught a cold from the Asian Financial Crisis and Indonesia burned with a fever that led to the MaY 1998 fall of President Soeharto's authoritarian regime, the imposition of IMF economic mandates, and the rebirth of Indonesia's democracy. Writer Kevin O'Rourke reported extensively on the heady days of the reform m  ovement, authoring a definitive account of the period, "Reformasi: The Struggle for Power in Post-Soeharto Indonesia".   Since then he has published one of the best weekly analytical reports of Indonesia's political and policy developments, "Reformasi Weekly".
---
June 6, 2018
Indonesia Economic and Political Update: Looking Ahead to 2019
On June 6th* AICC welcomes back two leading analysts based in Indonesia who will critique Indonesia's current economic policies, analyze Indonesia's perspective on geopolitical developments in Asia, as well as discuss the current maneuvers of the leading candidates for the 2019 national elections for President and Vice President.
Dr. Rizal Ramli, founder ECONIT Advisory Group, former Coordinating Minister for the Economy (2000-2001), Minister of Finance (2001), Coordinating Minister for Maritime Affairs (2015-2016). Known for his outspokenness, Ramli was an early critic of the authoritarian Suharto regime in the late 1970's and was an independent candidate for President in 2009. PhD Economics, Boston University
James Van Zorge, founding Partner, Gordion Knot Advisory.  Van Zorge is one the leading foreign political risk analysts based in Indonesia.  GKA helps put foreign firms on the right path through Indonesia's maze of regulations and policies.  Van Zorge, a Harvard University graduate has contributed often to the Wall Street Journal, New York Times, Bloomberg, Jakarta Post, Jakarta Globe, and Far East Economic Review. 
* PLEASE NOTE:  THIS EVENT WAS ORIGINALLY SCHEDULED FOR APRIL 27.